Voice of Success
Mr. Aditya Candra

Bandung Institute of Technology

FUJITSU LIMITED
Q1. Why did you decide to join Fujitsu Japan?
Since I was a child, I grew up with some of Fujitsu products appeared in my country. As long as I remember and experienced, Fujitsu is branded with its excellent product quality and long-lasting durability. At present, Fujitsu is the 5th biggest ICT company in the world, the 1st biggest ICT company in Japan and still expanding its business across 100 countries around the globe.

To be able to work in reputable ICT company has been always my dream and ACF gave me the opportunity to realize it. As my expertise is in cyber security area and I also recognized that Fujitsu has Global Cyber Security department which is one of the top worldwide players in providing Managed Security Services, the desire to work in Fujitsu Japan was getting boosted.
Q2. What kind of job are you in charge of?
For the first four months joining Fujitsu, I had a training with the other freshman. It was quite hard since I started living here with almost zero proficiency of Japanese language. Even so, my coworkers and personnel from HR department was always willing to help me when I dealt any obstacles.

Currently, I belong to head quarter of Fujitsu Global Cyber Security department which was particularly assigned in Managed Security Service unit.

On a daily work basis, I am responsible for managing cyber security service both for overseas and Japan clients. In addition, I also take care about proposal development to offer our best Fujitsu's Cyber Security products and services to potential customers.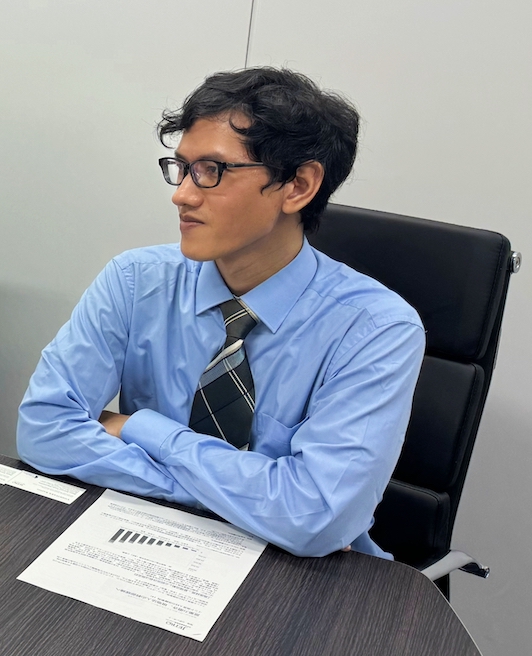 Q3. How is working in a Japanese Company? How do you feel living in Japan?
At first, I though that it would be really hard to work in Japan. Especially with the language barrier, cultural and geographical different. For the first months living here, I found that it was challenging as I faced different problem both on work and daily live matters. But after several months, I could enjoy living here day by day.

Fujitsu Japan now in its way to pursue more global and diverse company. It becomes more open minded so I never face any problem with my religious matter here. In addition, I am working with incredible set of people who have highly expertise on both business, operational and technical skills. They helped me getting motivated to keep my work passion alive.

I have lived in several countries before and I think living in Japan is more pleasant than the others. I love how the people keep everything in harmony within all living aspects. With this quality of life, I could enjoy any part of my life. As I am a person who prefer to go to natures rather than the crowded place, Japan provides beautiful landscapes that I dream of to keep rejuvenate again.
Q4. What are your plans for the future?
As I am comfortable to stay and work here, I would like to enhance my expertise as a cyber security professional. Working in Fujitsu provides me continuously challenges and ideal environment to grow.

I believe with Fujitsu, I could shaping my tomorrow with it.
Q5. Message for the younger generations interested in working in Japan
Participating in ACF is one of the golden ticket for the one who dreams to live and work in Japan. It is a once-in-a-lifetime opportunity so make sure that you are ready when the time is come.

Luck is a matter of preparation meeting opportunity.

See you in Japan!