Voice of Success
Ms. Katrina Nicole Ramos

(ACF2014 participant)

FUJITSU LIMITED
Q1. Why did you decide to join Fujitsu Japan?
I have always been drawn towards technology and I think that's why I took an engineering degree. I think it's also the reason why I decided to work in Japan as it is the top country in terms of technological advancement. Moreover, Fujitsu is the top company in its field. Who wouldn't want to work with the best of the best?

My internship gave me the chance to know more about Fujitsu and it was the perfect opportunity to experience the company's work culture, test the waters, and see for myself whether or not I am fit to work here. It also gave me the chance to see how it is like to live and work in Japan; a country known for its discipline and dedication to work.

I would say that those 3 weeks of internship were challenging but I learned a lot in that period. I was challenged but that's what kept it exciting. There was always something new to do and something new to learn and that's what I liked about Fujitsu; they support learning and they support your growth.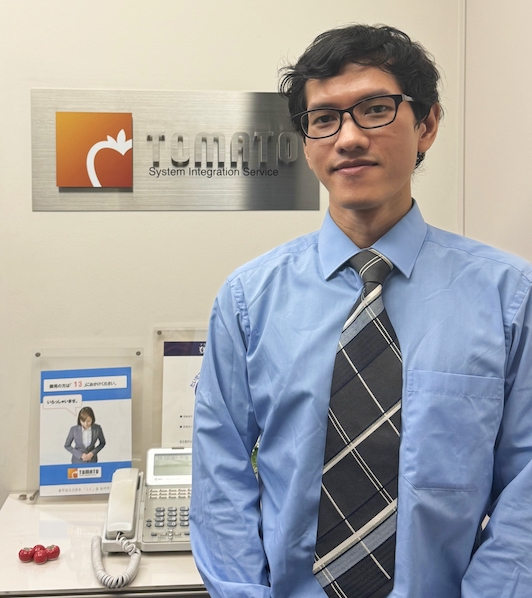 Q2. What kind of job are you in charge of?
As a software engineer, I am exposed to the newest technologies as I research and try to learn more about them. We study the latest technological trends and try to design, develop, test, evaluate, and refine systems that would answer to these trends.

However, as I am still a trainee, I am more focused on learning and improving my skills such as programming and Nihongo. We are also provided by trainings that are not directly related to the engineering field but are still important in forming well-rounded persons.

As of the moment, I am evaluating technologies from different international start-up companies which are focused on AI.
Q3. How is working in a Japanese Company? How do you feel living in Japan?
Working in Japan is a challenge. The language barrier alone makes it challenging, not to mention having to adjust to the different culture. Overcoming these challenges however, is one of the reasons as to why it is fulfilling. The first time you have a full conversation – even though it's just for small talk or for ordering food – in straight Japanese, you cannot help but feel elated and accomplished.

If you're worried about your lack of Japanese skills, stop worrying about it now. The Japanese are well-known for their kindness and good manners that despite the little English that they might know, they will still try to get their message across with the help of actions or pictures. However, this doesn't mean that you can skip learning Japanese since meetings and discussions are held in their native language. Since living in Japan provides a lot of opportunity to learn the language and the culture, you will get a lot of help with it. Plus, it's always remarkable to be the bilingual or trilingual friend of the group.
Q4. What are your plans for the future?
Since my department does a lot of group discussions and collaboration to function well, my highest priority is to be proficient in the Japanese language. This will enable me to provide more input and learn more at work which I think contributes to both my growth and the company's growth.

I plan to continuously expand my knowledge and work myself up into becoming a better software engineer with enough experience and be able to provide good service and possibly new products to the market.
Q5. Message for the younger generations interested in working in Japan
Don't be scared to explore, to learn, and to fail.

Working in Japan, especially in Fujitsu, gives you a good deal of opportunities for growth. Various trainings are provided and these give you the chance to be better in your field. You're also provided with trainings that are not directly related to your field and that will make you well-rounded. There's so much to learn and you will definitely feel the company's support in that aspect.

People's kindness and respectfulness will make you feel overwhelmed; even outside of work. More importantly, the food here is appetizing! I've been working in Japan for a while now and yet there's still so much to eat, various things to do, and a lot to explore around and outside Tokyo. I often wonder if I'll ever stop feeling like a tourist in this country.