Voice of Success
Ms. Jewel Manelle Amante

Ateneo de Manila University

FUJITSU LIMITED
Q1. Why did you decide to join Fujitsu Japan?
Over the course of 2 years and 7 months of working here, I get asked this question so many times but my answer remains the same: it was a leap of faith. I took this leap of faith because I've always wanted to venture out of my comfort zone and face challenging situations to be able to reach the depth of my capabilities and potentials as an individual.

Deciding to join Fujitsu Japan had actually been a breeze, it was the kind of prospect that comes once in a lifetime and it'd be crazy not to grasp this wonderful opportunity.

I've always been fascinated by the Japanese society, its culture, and its inner mechanisms. On the other hand, I had always been interested in technology and its impact to the world. Therefore, it just made perfect sense for me to jumpstart my career in Japan and work for Fujitsu, the #1 ICT Company in Japan.
Q2. What kind of job are you in charge of?
As of the moment, I am a part of the Vertical Industries Department, Global Business Division, Japan Sales. At first glance, an engineering major would seem to have no place in the sales division. However, this field is what I personally chose because everything business-related has always been my passion and it's a great way of expanding my personal skill set.

Being part of the sales team is not an easy ordeal, as everything is unfamiliar territory. However, the great part is that I've got acquainted with many people all around the world. I had many opportunities to travel a lot for my work, both in Europe and in Asia. These kinds of opportunities are really very hard to stumble upon and I feel that Fujitsu is a great avenue for you to reach your dreams.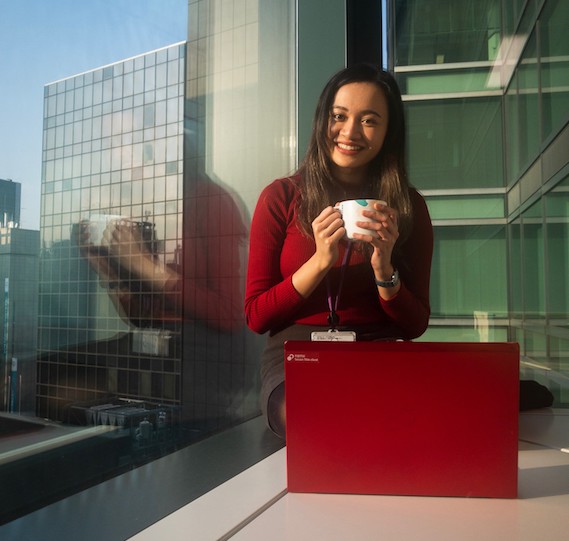 Q3. How is working in a Japanese Company? How do you feel living in Japan?
Entering Japan right after graduating from University meant that I'll be facing the real world away from the comforts of my own home. It has been rough figuring out how everything works with language barrier and culture limiting what you can and cannot do. Not to worry, the overall support of everyone in this society has been astounding.

Working for Fujitsu Japan, even with the obvious struggle of the language barrier, makes me feel like what I am doing creates an impact not only to my team but also to the company. In terms of career development, it had been nothing short of challenging. I'd like to call my adventure working here, "trial by fire". This meant that I am constantly challenged to go beyond expectations and to do well under pressure from the different projects that I am handling. Nothing is handed on a silver platter and I have to learn by actually doing what was required of me. The main skill I'm learning is about being adaptable while still exemplifying my individuality and providing diversity to the team.
Q4. What are your plans for the future?
I haven't really set myself for anything concrete yet for the future. However, it has always been my dream to "change the world" or "leave a mark" in the world. I see how Fujitsu is a great platform for me to reach this dream since technology is at the forefront of development of the society.
Q5. Message for the younger generations interested in working in Japan
Japan is an amazing country to live in and Fujitsu is a great company to work for. Be courageous and take that leap of faith!
You might be venturing into the unfamiliar but make sure to enjoy the amazing journey that will possibly become the best time of your life.