What is ASEAN CAREER FAIR with JAPAN ?
ASEAN CAREER FAIR
with JAPAN
Concept
ASEAN CAREER FAIR with JAPAN was born in 2013 as a very first challenge aiming at uniting talented youth from all over South East Asia with excellent Japanese companies to build even greater future and ties together.

Now it's the one and only project with the initiative which connects all those stakeholders including universities in the region in the name of 'career' and 'human capital.'

With very successful launches in the last five years' implementation bringing so many actual career successes since 2013, ACF always seeks for more of what the future global society requires.

In order to contribute to stronger ASEAN-JAPAN ties by matching candidates, universities and Japanese firms, organizers have been devoted to bring even more and more happy results to every stakeholder.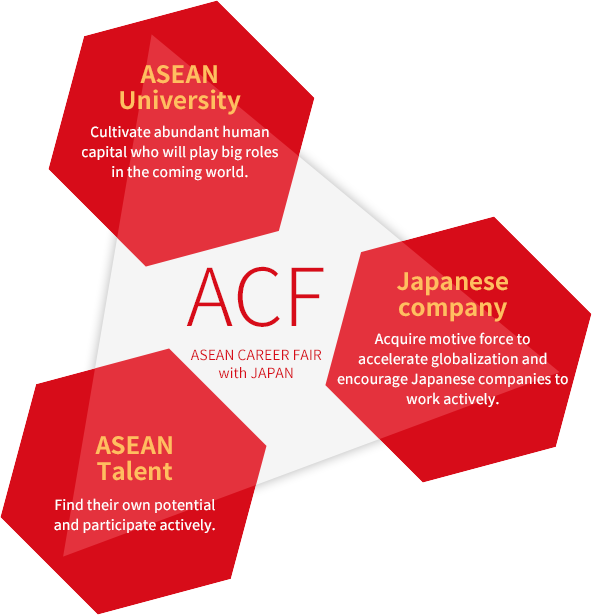 ASEAN CAREER FAIR
with Japan in Singapore 2024
ACF2024 is a real event held in Singapore!
What you can do
Visit Exhibitors and Communicate

Deepen your understanding of companies and professions by communicating with them at their booths. Visit as many companies as possible to find out how/where your skills and abilities can fully contribute to their businesses.

Join Seminars and Apply for Job Openings

You can participate in company introduction seminars held at their booth. You can also apply for positions of your interest directly at exhibitors' booths.

Grab a chance to have an interview on the day of the fair

Interviews will be conducted at the fair venue operated by each attending company. To get the chance to interview, start by communicating with the company at the exhibitor booth.
Event Details
ASEAN CAREER FAIR with Japan 2024

20 excellent Japanese companies will be there looking for talents from all over Southeast Asia. Participating companies will be listed soon with a wide range of jobs, from IT, banking, engineering & manufacturing, insurance to marketing and retailing.
Time & Place
APPLICATION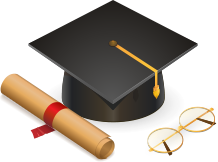 ON-LINE and FREE. The conditions to apply are as follows:
The applicants will be graduating from the participating ASEAN universities within the next 18 months or graduated (see the list below). We welcome ALL degrees—BA, MA, MSc, PhD—in ALL majors and fields.
The applicants will be required to submit their transcript. (A reference letter may be required in the post interview stages of the process.)
The applicants need to be strongly interested and motivated in working for a Japanese company and need to be able to express why.
The applicants should have command of business-level English (Japanese language proficiency not required, but might be an advantage in particular cases).
The applicants will have a valid passport and necessary visa to enter Singapore.
TRAVELING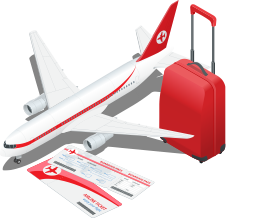 Make sure that you will bring your CV in English, cover letter (optional), student ID (bring several copies of each).
Travel arrangements (booking LCC air ticket) is your responsibility, including travel insurance (recommended).
Cost of your travel expenses will be reimbursed in cash at the end of the fair (See FAQs for more details).
Travel Scholarships
For those coming from outside Singapore, we provide travel scholarships. Please see the list below for a guideline of the stipend provided to support travel expenses from each country. In order to receive this support you MUST attend the event for the FULL DAY. Candidates from Singapore are asked to pay themselves for local transportation to the venue. Those who pass the initial prescreening process (after online registration) will receive an invitation letter with more details about the actual sum of the stipend.
In case that you are currently full-time working, the scholarship won't be applied to you.
From Malaysia (except from Johor Bahru)
SGD100
From Johor Bahru
SGD50
From Indonesia
SGD200
From Philippines
SGD200
From Vietnam

SGD250(Ha Noi) /

SGD200(Ho Chi Minh)
From Thailand
SGD200
Others
Max SGD250
REGISTRATION AND SELECTION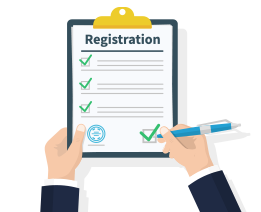 Fill in the registration form as directed
Upload your CV, transcript and reference letter
After the initial screening process, selected candidates will be notified by E-mail with the invitation.
Invitees need to make sure their login ID & password to enter the virtual platform.
FAQs for STUDENTS
I do not speak Japanese but can I participate ?
Apart from business-level English at least, We require NO Japanese language proficiency to participate in ACF. Be advised that you confirm with each attending company at their booth since they all have different language requirements.
I want to work in Japan. Are all positions in Japan ?
You'll meet wide ranged career locations since it all depends on each company's strategy. You may find positions in Japan, ASEAN subsidiaries, or other branches located in other parts of the world. We strongly recommend you to find out locations as well as career paths by communicating with each firm.
What should I prepare for/bring to the event ?
Many top Japanese companies will be making presentations at the event venue, so visit as many companies as you can during the day. If you find a company that attracts you, present your CV and ask for an interview. Bring as many copies of your CV as possible and other personal statements in order to appeal yourself fully.
How are the interviews conducted and what happens afterwards ?
Interviews will usually be conducted at the fair venue operated by each attending company, however, some companies may choose to have separate interviews after the event or on a separate day through Skype or other means. Please confirm with each company at the event venue.
How do I receive the travel support ?
The travel scholarship will be provided in Singapore dollars in cash at the end of the event to those who have fulfilled the condition to receive it.
What do I need to cover by myself ?
You are expected to pay for other expenses on your own, such as travel insurance, accommodation* or other fees that may incur to travel to Singapore.
*For those who need to stay overnight in Singapore for interviews after the event please ask the company who is interviewing you.
What else should I remember ?
Please bring documents you need to enter Singapore (such as your passport) and student ID (or other official forms of identification in order to receive the travel stipend). If documents are missing or falsified you will not qualify to receive the stipend.
The organizers, supporting organizations and cooperating universities bear no responsibility in cases where you fail to produce the correct documents and do not receive your stipend or where other accidents not related to the event occur.