Voice of Success
Mr. Lim Han Seng

(ACF2016 participant)

FUJITSU LIMITED
Q1. Why did you decide to join Fujitsu Japan?
The main reason of I decided to join Fujitsu Japan is because of the experiences I received during the one month internship with the company in year 2016. It is indeed challenging to live and work in Japan as a foreigner with zero Japanese language proficiency. However, the availability of systematic arrangement and training provided by the company that time allowed me to overcome the barriers and difficulties. Besides that, coworkers are also very friendly and easily approachable. I am truly impressed by the working attitude of the people here.

Secondly, being an engineering graduate, working in a company that is one of the top in the field surely is a big attraction. Technology research and development has always been my ideal career choice. It is really exciting to be able to be getting involve with the latest technology trend and contribute in the field.
Q2. What kind of job are you in charge of ?
I am currently part of the Zinrai AI team particularly on Natural Language Processing related applications. The job scope mainly covers the data analysis and evaluation, data feature engineering and so on.

Even though this is completely new for me, I have managed to grasp the necessary knowledge and get onboard easily because of the available of abundant and useful resources.

Besides that, it is not just about technical and development work. Before being officially assigned to the department, all new employees have had a new employee induction period which allowed me to learn about the business etiquette to get myself ready for the challenges outside of job scope and also be able to sort of have an insight of the business and commercial world.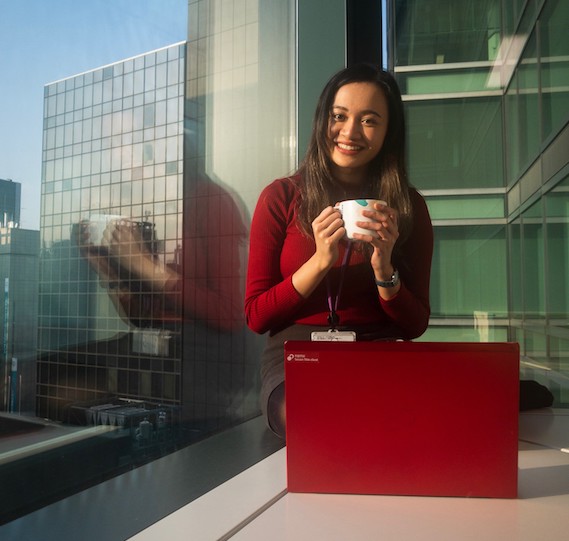 Q3. How is working in a Japanese Company? How do you feel living in Japan?
Working in a Japanese company really train one's self disciplines. Generally Japanese company embraces their talents a lot and treat each and every employees as their important assets. Everyone treasures the teamwork and helping each other to achieve the goals and drive to success regardless of one's background.

The department I am in right now is very diverse. I have coworkers from different countries and it is really interesting to see people from different background and cultures work together. Even though Japanese language is still the major medium of communication, some of the documents and information are made in bilinguals, and that has always been the considerate side of the Japanese.

As for about living in Japan, it's always fun and exciting. You will be able to experience four seasons and a lot of festivals to celebrating the seasons. Of course you will get to experience the most out of Japan when you can speak the language fluently, and that is also what I am working on very hard right now outside of working hours.
Q4. What are your plans for the future?
I will continue to broaden my views and knowledge in order to solve world's problems, and continue to sharpen and develop new skillsets in order to become a successful engineer.

Together with FUJITSU, shaping better tomorrow.
Q5. Message for the younger generations interested in working in Japan
Dare to dream big, eager to pursue!
Step out of comfort zone, make "magic" real!
You only live once, you gotta live once!