Voice of Success
Ms. Phattaramon Lerdpaisalwong (Gift)

Chulalongkorn University

Daikin Industries, Ltd.
Why did you decide to challenge the global internship opportunity in Daikin?
"A stable marketing job in a global scale company which allows me to visit many countries, to meet new people, and to grow up together with the company", this is the brief answer of mine if someone asks me what my dream job is. I decided to challenge the global internship in Daikin because I believed that it could provide me the opportunity to get closer to my dream job.

Just because I graduated from the Faculty of Arts, there is almost no possibility for me to get a marketing job in Thailand, because companies here prefer hiring employees who have graduated from the related or the same field as the job position they apply for. During my last year in the university I had a chance to join a marketing internship in a start-up company in Thailand. I then have grown my interest toward marketing and want to pursue my career path further in this field. The global internship at Daikin didn't require specific major. Moreover, Daikin is a worldwide company that I believed could give me valuable experiences like no others which would take me closer to my goal. Therefore, I thought that it was the chance I could not let go.
What was your role in the internship? Please share with us your experiences in your internship at Daikin in Japan.
During the 3-week internship, I was assigned to be in the Asia-Oceania group in Global Operation Division at Daikin headquarter in Japan. There were other two interns from the Philippines joining the same internship who were assigned to different groups.

I would say that our role in this internship was not only a learner, but also a creator.

As a creator, we were all given different theme about marketing to do the research and create our own proposals, then do the presentation in the last week. My theme was to research and analyze the markets in 6 ASEAN countries by having Thailand as the main focus.

However, Daikin didn't just let me do the research, but also let me learn by experiencing. As a learner, I was trained by experienced staff and learnt from real documents which not only helped me with the research, but also with marketing job. Besides, I was taught about air conditioner and its industry by professional members. Moreover, I had chances to visit Daikin Technology and Innovation Center and factory where I could see cutting-edge technology that I would never have chance to see without joining this internship.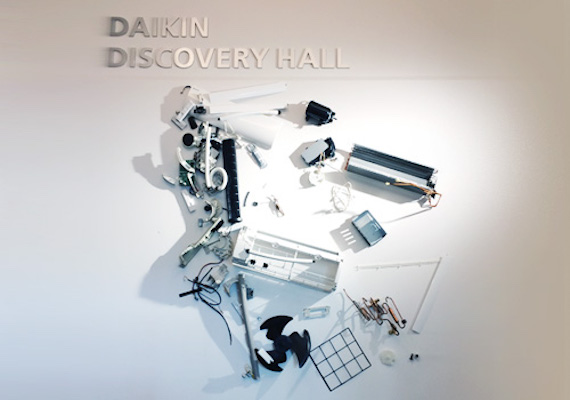 What was your image of a Japanese company? Did your have any change in the image about Daikin before and after the internship?
I used to think that Japanese companies in Japan must have quiet and stressful atmosphere, and is very strict, especially in big companies. However, what I experienced at Daikin was totally different.

At Daikin, not at all a quiet and strict company as I had thought, everyone was surely doing their job professionally, but the atmosphere was relaxing because of their friendliness and enthusiasm. Everyone has the time they will go and ask for the information or discuss their work matters with someone. My trainer told me that lots of valuable information was not in documents but in people, therefore to work here you have to be capable of communicating with people.

I could feel that Daikin doesn't just choose people who can work, but people who are open-minded and not bad at interpersonal skills. As for my own experience, there were some times I needed to get help from experienced people during the internship. At those times, I could care freely asked my trainer who I should talk to and I would always get friendly response.

Working condition is as well flexible. I found that it was not difficult to take day-offs. Besides, working hour was flexible. Employees can leave the office right after the working hour has ended if they want. There is also the policy to make sure that the employees can maintain their work-life balance, such as, no OT day once a week and the rule not to take work back home.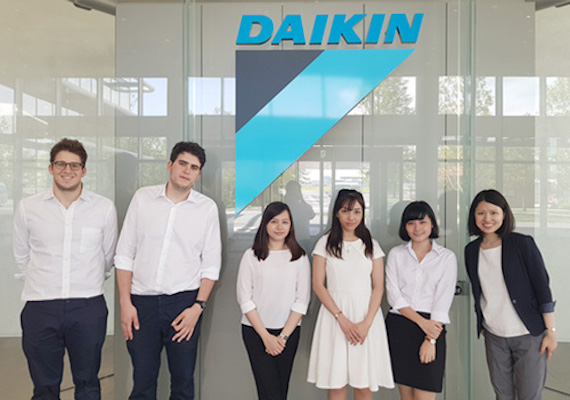 What do you want to perform as a global employee of Daikin in the future?
I want to keep building bridges that connect our clients and Daikin's technology, as well building awareness on airconditioning and environment by creating interesting and easy-to-understand promotion materials.

After being assigned to Product Planning Group, I, a person with humanity background, had faced some difficulties finding my way in such a technical group. However, I had a chance to work on promotion and from those experiences I realized that it is very important to make our technology easy-to-understand to everyone. Therefore, people with no technical knowledge can understand and see the value of not only our technology, but also the air conditionting system which affects a lot on environment. As well, it is an important opportunity to make people feel closer to the matters on airconditioning and enviroment which directly affect our life.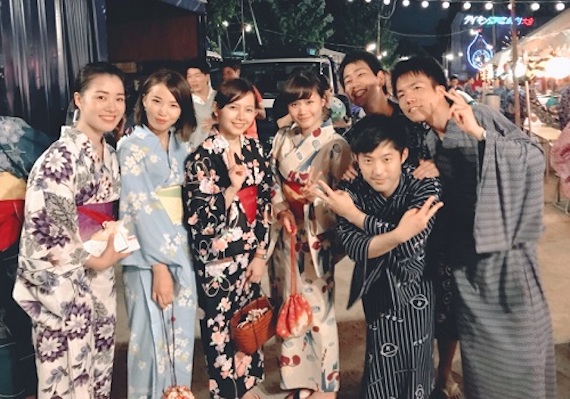 Message to younger generations interested in Daikin group.
Don't hesitate. Just go for it.

All I can say is that Daikin has always been very supportive and I have got a lot more than I can say in words.

I don't want you to just read this and believe me, but go take a chance and experience it all by yourself.